Ways to tell it is Friday the 13th:
1. Dean Winchester sweeps the 2009 Fandom Steel Cage Match March Madness championship by a relative landslide.
2. Mother Nature shows up with a gift to celebrate.
By the way, I found this campaign poster in the recycling bin. I have no idea how it got there or where it came from, although by the looks of things, at least three people had a hand in it.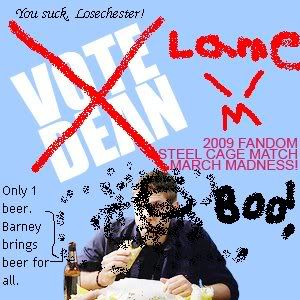 And now back to what I do best: a smattering of reviews, representing the only things I have managed to watch so far this week while I was busy being preoccupied with March Madness stuff.

Secret Life of the American Teenager: 1x21
Losing patience with this circus by the week. Only the knowledge of the light at the end of the tunnel is keeping me going. Once the season ends and I fall out of the weekly watching habit, that'll be IT.
(
Collapse
)

------------
Medium: 5x06, "Apocalypse...Now?"
You know what I love about this show? It frequently uses its teasers - in the form of Allison's first and most surreal dream - to provide visual representation of my wild and crazy daydream scenarios, free of the pressure to conform to canon/reality or work it into an overall story. You just get a snapshot, but you get to see the characters in those situations rather than having to imagine it. Like, say, what it would be like several days, or weeks, into a world where their family members (or most of them) are the only survivors in the area of a natural disaster/apocalypse-type scenario.

(
Collapse
)

------------
(
Collapse
)

-------------
(
Collapse
)