I am in TV hibernation mode right now. I SUDDENLY CANNOT DEAL WITH MAY SWEEPS. Distracting myself with memes, wee! Because this is exactly what I intended an hour ago when I turned off the TV and said "Self, let's be productive and DEEP CLEAN THIS ROOM, YEAH!"

*shrugs* I don't know; I found this earlier while searching for something completely different, and I couldn't resist, although I have altered the directions slightly to comply with other similar list-of-book memes. Being as it was about YA novels, though, it seemed absolutely necessary that I fill it out.

"The following list of books teens love, books teens should read, and books adults who serve teens should know about was compiled IN
ABSOLUTELY NO SCIENTIFIC MANNER and should be taken with a very large grain of salt."

Instructions:
Bold the books you've read
Put a "+" next to the ones you LOVE
Italicize the ones you want to read
Strikethrough ones you hated or would never read

[EDIT: I have decided to update this list periodically in blue text with books I've read off it after the fact, because it's so surprising and delightful to realize that books I'd never heard of in 2009 have eventually made it onto my reading list.]

1. Hitchhiker's Guide to the Galaxy / Douglas Adams
2. Kit's Wilderness / David Almond
3. Absolutely True Diary of a Part Time Indian / Sherman Alexie
4. Speak / Laurie Halse Anderson (responsible for my most infamous YA author grudge)
5. Feed / M.T. Anderson
6. Flowers in the Attic / V.C. Andrews
+7. 13 Reasons Why / Jay Asher
8. Am I Blue? / Marion Dane Bauer
9. Audrey Wait! / Robin Benway
+10. Weetzie Bat / Francesca Lia Block
11. Tangerine / Edward Bloor
12. Forever / Judy Blume
13. What I Saw and How I Lied / Judy Blundell
14. Tyrell / Coe Booth
+15. The Sisterhood of the Traveling Pants / Ann Brashares
+16. A Great and Terrible Beauty / Libba Bray
17. The Princess Diaries / Meg Cabot
18. The Stranger / Albert Camus
19. Ender's Game / Orson Scott Card
20. Postcards from No Man's Land / Aidan Chambers
21. Perks of Being a Wallflower / Stephen Chbosky
22. And Then There Were None / Agatha Christie
23. Gingerbread / Rachel Cohn
24. Nick and Norah's Infinite Playlist / Rachel Cohn and David Levithan (oh man, Rachel Cohn! I didn't know she was attached to this. I would probably have read this if I'd discovered it on my own, but unfortunately now I have Michael Cera burned into my brain as the main character, and that's unpleasant)
25. Artemis Fowl (series) / Eoin Colfer
26. The Hunger Games / Suzanne Collins
27. The Midwife's Apprentice / Karen Cushman
28. The Truth About Forever / Sarah Dessen (fie! This one was actually okay, but it reminds me that her book "Just Listen" was SO TERRIBLE that I can never pick up another one of her otherwise appealing novels without feeling stabbing hatred)
29. Little Brother / Cory Doctorow
+30. A Northern Light / Jennifer Donnelly (FUN FACT: The girl in profile on this cover looks frighteningly like me. Seriously. Almost exactly like me, just with a straighter nose and in sepia tones)
31. Tears of a Tiger / Sharon Draper
32. The House of the Scorpion / Nancy Farmer
33. Breathing Underwater / Alex Flinn
34. Stardust / Neil Gaiman
35. Annie on My Mind / Nancy Garden
36. What Happened to Cass McBride / Gail Giles
37. Fat Kid Rules the World / K.L. Going
38. Lord of the Flies / William Golding
39. Looking for Alaska / John Green

(OH MAN, THE AUTHOR HATE. THIS BOOK. ALKSJDFLKASJDF.

ITS AWARDS OFFEND ME.

)


40. Bronx Masquerade / Nikki Grimes
41. Out of the Dust / Karen Hesse
42. Hoot / Carl Hiaasen
43. The Outsiders / S.E. Hinton
44. Crank / Ellen Hopkins (one day, I will get around to it! GO DRUG STORIES)
45. The First Part Last / Angela Johnson
46. Blood and Chocolate / Annette Curtis Klause
47. Arrow's Flight / Mercedes Lackey
+48. Hattie Big Sky / Kirby Larson
49. To Kill a Mockingbird / Harper Lee
50. Boy Meets Boy / David Levithan (it is just never going to happen, library shelf of offering)
51. The Disreputable History of Frankie Landau-Banks / E. Lockhart
52. The Giver / Lois Lowry
+53. Number the Stars / Lois Lowry
54. Sleeping Freshmen Never Lie / David Lubar
55. Inexcusable / Chris Lynch
56. The Earth, My Butt and Other Big, Round Things / Carolyn Mackler (REMEMBER THAT TIME?)
57. Dragonsong / Anne McCaffrey
58. White Darkness / Geraldine McCaughrean
+59. Sold / Patricia McCormick
60. Jellicoe Road / Melina Marchetta
61. Wicked Lovely / Melissa Marr
62. Twilight / Stephenie Meyer (one day, I will get around to this too! For the lulz. And the fact that I would probably actually be entertained by the story even while I was mocking the writing style)
63. Dairy Queen / Catherine Murdock
64. Fallen Angels / Walter Dean Myers
65. Monster / Walter Dean Myers
66. Step From Heaven / An Na
67. Mama Day / Gloria Naylor
68. The Keys to the Kingdom (series) / Garth Nix
69. Sabriel / Garth Nix
70. Airborn / Kenneth Oppel
71. Eragon / Christopher Paolini
+72. Hatchet / Gary Paulsen
73. Life As We Knew It / Susan Beth Pfeffer (AND MAN, IT FREAKED ME OUT FOR A WHILE AFTERWARDS)
74. The Golden Compass / Phillip Pullman (one day, when I am ULTRA BORED)
75. Angus, Thongs and Full-Frontal Snogging / Louise Rennison (I have passed this 9 million times. Never, I say!)
76. The Lightning Thief / Rick Riordan
77. Always Running: La Vida Loca / Luis Rodriguez
78. how i live now / Meg Rosoff
+79. Harry Potter (series) / J.K. Rowling
80. Holes / Louis Sachar
81. Catcher in the Rye / J. D. Salinger
82. Push / Sapphire
83. Persepolis / Marjane Satrapi
84. Unwind / Neil Shusterman
85. Coldest Winter Ever / Sister Souljah
86. Stargirl / Jerry Spinelli
87. Chanda's Secrets / Allan Stratton (read it! It's good stuff!)
88. Tale of One Bad Rat / Brian Talbot
89. Rats Saw God / Rob Thomas
90. Lord of the Rings / J.R.R. Tolkien
91. Stuck in Neutral / Terry Trueman
92. Gossip Girl / Cecily Von Ziegesar (not with a disinfected 10-foot pole)
93. Uglies / Scott Westerfeld
94. Every Time a Rainbow Dies / Rita Williams-Garcia
95. Pedro and Me / Judd Winick
96. Hard Love / Ellen Wittlinger
97. American Born Chinese / Gene Luen Yang X
98. Elsewhere / Gabrielle Zevin
99. I am the Messenger / Markus Zusak
100. The Book Thief / Markus Zusak

TOTAL: 31/100

Wait - I've only read 31?!?!? WHAT IS THIS NONSENSE. It shouldn't matter how arbitrary the list is; I've read hundreds and hundreds of YA books in the past 12 years! I should know everything! Geeze. My pride, it is wounded a little bit.
========
In other news, this is how much headway I've made on television in the last 3 nights:

House, 5x23, "Under my Skin"
Well hi there, EPISODE OF WIN. *tackle-hugs it*


House. House. Being all shaky and detoxing and vulnerable and needy. Physically and emotionally. In ways I have never seen before. My face is one big mask of pity and whimpering and sympathy...which is exactly where I want to be. I couldn't believe my eyes when he was telling her the locations of his 9,725 (actual number) secret stashes - that's a whole new galaxy of acting for Hugh Laurie, so utterly different from the usual depiction of House that I'm not even sure I believe my memory.

Fragile, I think, is the word I want to put here. If you wrote it in a fic, you would probably find yourself lambasted on House_MST without delay. Unless you were like the writer of this episode, in which you would be winning awards all over the place for the talent involved in taking House to such a helpless place and packing it with emotional resonance rather than performing a public faceplant. *exhales* I DON'T. HAVE WORDS. (But as always, Amber does! "It's like I don't even know who you are anymore." Hee, unexpected moment of humor!) AMAZING.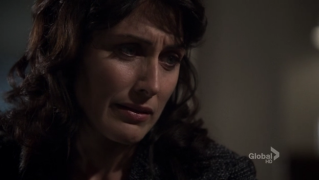 "Hold my hand." *explodes with joy*

And just when I think my little ever-unconcerned-but-suddenly-on-fire Huddy-shippin'-heart has reached its full potential, THERE IS MORE, with her sympathetically sitting on the bathroom floor, patiently offering drinks of ginger to combat his nausea. Her being there is somehow the sweetest gesture I have ever seen. Never mind that this scene comes with more fantastic observations from Amber, or blatant commentary on House vs. deserving people. And it's utterly brilliant seeing him so frenzied for the Vicodin that he barely seems aware of what he's doing until he's got his hands plunged in vain down the toilet (also: ew). I in no way laughed at the "bad dog!" tone of voice when Cuddy ran back to snatch the pills away from him and flush them.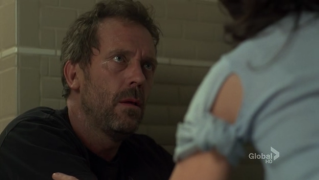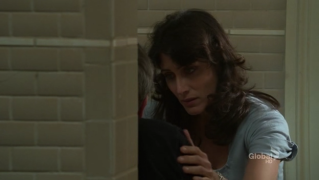 There's maybe sort of a little part of me cheering in evil, HAPPY-DANCE VICTORY that I'm sure there are some House/Cameron shippers*, and/or House/Wilson shippers, out there all violently jealous that one of their favorite scenarios, nursing House through detox, got played out by the wrong woman. I am not ashamed to revel in this.

"You want to kiss me right now, don't you?"
"I always want to kiss you."

Pretty sure that's part of the fantasy scenario too. Except it's real for us! And I'm all WAY MORE FULL OF JOY THAN I EXPECTED TO BE. Honestly, even though I sort of feigned interest back in 5x06, I still wasn't really feeling it, deep in my bones? NOW I AM.

Turns out I'm still not on board with the messy making out, though. This couple does not kiss prettily. Even their chaste kiss wasn't particularly pretty, and believe me, it is hard to fail at that. *shrugs* But I'm quite all right with it, in general. I'm not even going to wonder aloud things like "didn't we already see House try detox once, and didn't it last a lot longer than one night?" or "seriously, Timeline O' Convenience much?" Those things detract from my simple enjoyment.

And since all that apparently only took place in the last 15 minutes, and wasn't even the full 15 minutes, that's just more proof it was an amazing hour. I unintentionally glossed right over all his failed attempts at self-diagnosis, his random stupid choices for self-medication, or the ultra-creepy return of Amber singing like a dirge, right before he realizes he is in a Very Bad Place and ever so pitifully calls for Wilson to pick him up. (fortunately, Wilson avoids getting involved in any bus accidents on the way there or back). Or that even when he precedes his request for help with the cruelest insult ever (something about going home to suckle her bastard child...it was extremely uncalled for), he turns around and is so pitiful with the "I need you" that all is instantly forgiven.

I DON'T HAVE ENOUGH ROOM IN MY HEAD FOR THIS STORYLINE. And there are two more just as big on the sidelines.

Magically On-Screen Relationship of engaged!Chameron: So Cameron is still holding on to Poor Dead Husband's sperm (Foreman, back in fine and snarky mode: She...doesn't like yours?). This is one of those damned-if-you-do, damned-if-you-don't situations, isn't it? Telling your second husband about it, I mean. You know, and she knows, if she hadn't disclosed it up front and he found out later, there would have been hell to pay and accusations of deception and distrust all over the place. But when she does, it only leads to uglier discussions and demands and it's just not a good place for anyone.

I mean, Chase has a point, and objectively, I award him the winner of this duel. It's a little bit unsettling to have your significant other putting more faith in the odds than in your love - rational or not, it's one of those things you just don't do, kind of like claiming your child is no more special than anyone else merely by virtue of being yours.

And besides, if you are me, you melted all over the place at Chase's calm response to Cameron wailing that nobody can know [their love/marriage will last forever], "I do." Look at him. You can't possibly resist that kind of stubborn devotion. Unless you secretly know that you will be the one to screw it up in the future! You totally know that, don't you.

But from the sociological observer's perspective (yep, that's my lofty and self-ascribed title for "member of the audience"), the odds on Chase & Cameron? Not the greatest ever. Look at their track record! Look at why they almost didn't get engaged in the first place! (speaking of their sudden 2-week wedding plans: Chase probably wanted to get married as quickly as possible so she couldn't change her mind...and it still wasn't fast enough! Hah!)

I think there is an EXCELLENT chance they won't work out, and Cameron should probably go ahead and hang onto that just in case. Unless she can convince Chase to make his own contribution and sign over rights to her. (sidebar - does it not expire at some point? I mean, how many years does it actually stay viable? There has to be some sort of time limit here, right? *Googles things* Damn it, Google. For once I am not asking you about horses or cows. Give me better results! Oh, never mind. Apparently it can last "indefinitely," or at least upwards of a decade or possibly two]

...where was I going with this?

The state of Chameron. Right. Can't say I find myself especially bothered one way or the other, wedding on or off. Possibly this has more to do with the fact that teary-eyed Cameron throwing her arms around his neck in the promo for next week is more squeeful than either outcome pertaining to vows.

The Case: Involved a ballerina, and thus was automatically interesting! I should be saying a lot more about it. Except I don't really remember what happened, other than me liking it, as I got distracted by all the other stuff. Darn it, show. Pace yourself better! Spread the good stuff out! Or keep to this formula so that I at least feel safe declaring "best episode of the year," hands down.

Last words on Huddy: I don't actually know if my newfound love will last past the end of this episode. Official reviews & message boards are burning up with comments about people who are all excited about the launching point of this relationship, and I kind of want to tell them to slow down, back off and/or proceed with caution. This is a delicate and prickly thing. It will probably end up being nothing. Or exploding in flames. I will merely appreciate little bits at a time, content to bask in the fact that the contents of this episode are safe in my brain and it equals a lifetime supply of satisfaction.