LOOK LOOK LOOK.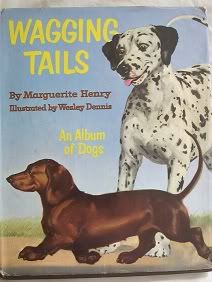 I have a set of thrifting blogs I read (mainly: one blog, and then all the links in her sidebar), and last Saturday morning, I came by a post not 24 hours old about an estate sale where someone mentioned finding a bunch of old things, including books, she had listed in her Etsy shop. I went over to see the pics, and HOLY HELL, MY BELOVED AND HIGHLY COVETED MARGUERITE HENRY BOOK. Album of Dogs -- or rather, an earlier edition, under a different title and cover.

Remember how I told you it was relatively hard to find? And here it was for $5.00. That's cheaper than anything on eBay OR Amazon -- the cheapest "acceptable" copy (sans dust jacket) I saw was $7, and they are routinely at least $10-20 -- and even with shipping ($3.50) it's as cheap as I'm going to find it barring a miraculous hit at a library or garage sale (and it's already been withdrawn from this library system). The photo of the cover looked OK, so I took the plunge.

It arrived today, and I was bowled over to see what AMAZING condition it is in. It's not ex-library. There isn't even an inscription. The physical page corners are essentially perfect and look like they've hardly been turned. Binding's good. Literally the only damage to this 1955 book are the typical banged up cover corners and a couple of small pieces torn off the dust jacket at the top and bottom of the spine.

I believe this is one of the best books in existence. Yes, across all time and genres. Even beating out a number of her own horse books. Similar to the more popular Album of Horses, this features 23 different breeds (including a sweet story about the unique importance of mutts at the end) on 2-page spreads, with a full-page color illustration on the right and a short story or brief and engaging breed history with additional margin sketches on the left. I went snap-happy and included a bunch of pics here, including a few favorite stories -- the pics stay this size, but the stories get big enough to read when clicked. It's classic, breathtaking, engaging -- it's children's literature (also suitable for adults) at its finest.

Inner boards:


(obvious statement is obvious: that's a shaft of light obscuring the lower right corner)

Back cover (this gets bigger too):



...at the rate I'm going, I might as well have just photographed every single page, sheesh (THEY ARE ALL SO PRETTY, THOUGH.)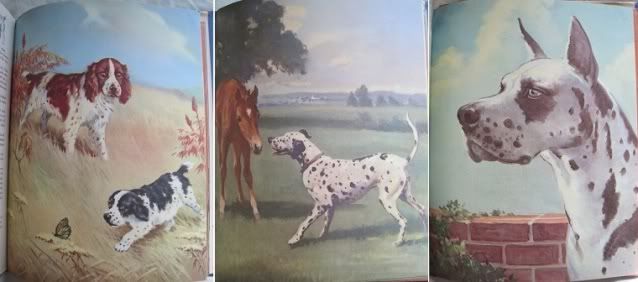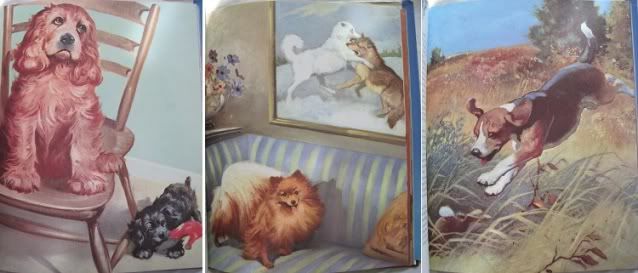 (the middle pic here is what the cover on the later "Album of Dogs" editions looks like -- it's also my favorite in the book. And in the Dachshund picture, Misty & Brighty look out of the stable)




GIDDY, HAPPY CIRCLES: I AM TURNING THEM. I am going to destroy the book myself if I don't stop touching it and reading all the familiar old stories over and over again, but -- I can't keep my hands off of it! I'm supposed to love all my books, or at least all my old books, equally, but some of them are just pricelessly (making up a word) precious. This is one of those.