Continued from here.


October, continued
161. Virals - Kathy Reichs. 454 pg/2010. ***½ [10/30]
"Perfect for animal lovers and young fans of Bones," it says. That's me! Except apparently in order to sell to the YA demographic, she had to throw in science fiction, which just seemed highly unnecessary when the rest of the story was poised to be so interesting. I'm not saying the dogs weren't great or that it wasn't a fast/exciting read, I'm just saying all her friends in the story were criminally boring and I have no plans to read another in this series.

162. Slept Away - Julie Kraut. 303 pg/2009. *** [10/31]
Sometimes you just pick up a book with a title in cursive and a bright pink back cover and say, "Yeah. I want something super light and silly."

163. The Alison Rules - Catherine Clarke. 264 pg/2004. *** [10/31]
"Shocking, unexpected and heartbreaking," says a quote on the cover. That about sums it up.

164. Tweet Heart - Elizabeth Rudnick. 266 pg/2010. *** [10/31]
I'm not sure this should even count as a book (one wonders about its actual unique word count), but what the hey. If anyone else ever tries to write a novel mostly in tweets, I will roll my eyes and badmouth their laziness and lack of character depth, but since this was my first I found its ability to actually create a narrative oddly fascinating. And I am a person who hates Twitter. I credit the art design.

165. Chasing Alliecat - Rebecca Fjelland Davis 277 pg/2011. **½ [10/31]
Other than the Minnesota-wth-recognizable-towns setting, nothing particularly memorable. Strike 2, Rebecca.

November (26)
166. All Rivers Flow to the Sea - Alison Mcghee. 168 pg/2005. [11/2]
At some point I just started punching the book for its incessant repetition of the same infuriating paragraph.

167. Countdown - Deborah Wiles. 376 pg/2010. *** [11/3]
Had a hard time figuring out what was going on, but I am in love with novels featuring unique art design - this one was like somebody in the 1960s used its pages as a scrapbook for news & photos.

168. Mostly Good Girls - Leila Sales. 327 pg/2010. **** [11/4]
It was like all the elements of my two best friendships rolled into one, just neatly inserted into a brand-new setting. It was so refreshing to see an 11th-grade friendship that actually matched my own experience. Writing seemed a bit breezy and superficial, but that was the lone flaw. Well, that and the cliche "whoops, that super-cute boy you like is gay" trope.

169. Dirty Little Secrets - C.J. Omololu. 212 pg/2010. ***½ [11/4]
Adored the first 75%, hated how it just took a sharp left turn and ended too abruptly.

170. Miles from Ordinary - Carol Lynch Williams. 197 pg/2011. ** [11/5]
Scary and heart-stopping ending but otherwise seemed to be lacking in, what's the word, a point.

171. The Comeback Season - Jennifer E. Smith. 246 pg/2008. **** [11/5]
Given my total lack of anything resembling interest in baseball, I was surprisingly moved by the story. Was it the part where the love interest had cancer and the romance was subtle and understated and involved two instances of literally sleeping together and nothing more? MAYBE. But it also prodded my empathetic grief bone throughout at the idea of missing your father no less five years later.

172. Books: A Memoir [NF] - Larry McMurty. 259 pg/2008. ****½ [11/6]
Ahem: ASKL;DJFASKLDJFASKLDJFKLASDJFLAKSDF. It is an entire memoir about a life spent collecting books. Mostly from the perspective of dealings as an antiquarian bookstore owner. Hello, kindred spirit.

173. Miss Peregrine's Home for Peculiar Children - Ransom Riggs. 352 pg/2011. ***** [11/6]
WONDERFUL. The way the story was told around old photographs was brilliant, and better yet, part of it featured exploring an abandoned wreck of a mansion, something I've always wanted to see. And then some creepy/thrilling not-quite-ghostly stuff. It's the first book with a planned sequel in a long time that I've felt actually deserved it (though sequel will clearly not compare). Actually worth buying new, this one.

174. Lost For Words - Alice Kuipers. 210 pg/2010. ** [11/6]
A unique context (subway bombs in London), but she didn't do anything with it, preferring to have most of the book lead up to The Big Reveal of what happened. Surprise, I ruined it so you don't have to waste your time reading.

175. The Baby-Sitters Club: The Summer Before - Ann M. Martin. 215 pg/2010. *** [11/7]
Prequels: always better than sequels for beloved childhood series. Love these girls.

176. Revolution - Jennifer Donnelly. 496 pg/2010. **** [11/8]
I faintly dreaded cracking open the massive tome, but then it just got better and better and better until, 4+ hours later, my eyes were like saucers and my jaw was hanging open in awe. So many things that shouldn't have worked, but they did. Wildly gripping tale - or pair of them, rather.

177. What Comes After - Steve Watkins. 334 pg/2011. **** [11/10]
Goats! Wish the love interest had been less gross-sounding and the character didn't have an irrational hatred of ferrets, but super-solid storyline.

178. Stray - Stacey Goldblatt. 276 pg/2007. *** [11/13]
There were a sufficient number of cute dogs to entertain me.

179. Between Shades of Gray - Ruta Sepetys. 344 pg/2011. **** [11/15]
A bloodchilling account of a period in WWII about which I know nothing. (and whoa, its reviews are through the roof)

180. The Fur Person - May Sarton. 106 pg/1957. ***½ [11/18]
Charming little tale. Like something you'd read out loud with the family.

181. A Girl Can Dream - Betty Cavanna. 189 pg/1948. **** [11/18]
Memorable not so much for the plot, but for the references to My Friend Flicka, Seventeenth Summer and St. Exupery's memoir, plus the marvelous writing style of the times - where phrases like "that's a real feed!" and "put up the dough" invite scolding over slang and not speaking "properly" from the girl's mother. (but for all that, it was very gender-equality)

182. Stolen - Lucy Christopher. 320 pg/2009. **** [11/19]
Wish it hadn't been written in second person, but fascinating -- and besides, it's far from the worst thing that could happen to an abducted girl. I may have bonded with Ty over the course of the book...and/or been disappointed when, contrary to what the reviews said, I never honestly felt like Gemma did.

183. Light Beneath Ferns - Anne Spollen. 206 pg/2010. ** [11/20]
Utterly bored by the story, but also wanted to punch all the adults in the head for not leaving the obviously perfectly well adjusted girl alone instead of forcing her to "socialize." I need to stop reading books published by Flux; they evidently can't afford good manuscripts.

184. Please Ignore Vera Dietz - A.S. King. 326 pg/2010. **½ [11/21]
Dear title: done. Vera was such a loser. All she had to do was talk to a guidance counselor at some point.

185. Somebody's Crying - Maureen McCarthy. 384 pg/2010. **½ [11/21]
Blah, too long, too much perspective from boys. Author is hereby snubbed.

186. Lipstick Apology - Jennifer Jabely. 321 pg/2009. *** [11/24]
Fast and only slightly deeper than I expected, the description of her new life in New York was my actual waking nightmare. It made her parents dying seem like a minor disappointment. The secret was also an incredible letdown.

187. All You Get Is Me - Yvonne Prinz. 288 pg/2010. *** [11/26]
I feel like the author spent the whole book unnecessarily yelling, "Mexicans are people too!" Plus she kept saying the lawsuit was "controversial," but I just didn't see what was so unbelievable about taking legal action against a person who killed another person with her completely reckless driving.

188. The Mourning Wars - Karen Steinmetz. 240 pg/2010. *** [11/26]
They keep coming up with stories about settlers being taken captive by Indians, I'll keep reading them, but this one's characters never really came to life. The historical note was the most intriguing part.

189. Poser - Sue Wyshynski. 259 pg/2010. *** [11/28]
There's something you have to love about books that shamelessly own their fluff-tastic, dumbed down determination to appeal to teens without choosing the perspective of a rich/popular/slutty main character.

190. Good Girls - Laura Ruby. 274 pg/2006. [11/30]
Unlikable girl makes stupid-ass decisions, deserves everything she gets. (also: this deliberately incorrect title contains absolutely disgusting descriptions of hook-ups; I only finished it so I could put it on here and shout DO NOT READ!)

191. Flygirl - Sherri L. Smith. 256 pg/2009. ***½ [11/30]
It's been calling me for ages; I figured after watching Flyboys, it would be more interesting. And yes, it was a fun way to pass the time.

December
192. Into The Wild Nerd Yonder - Julie Halpern. 256 pg/2009. *** [12/2]
The beginning was full of weirdly vulgar stuff that did not fit with the overall cutesy cover/main character tone; I wish the whole book was just the second half.

193. Heat Wave - "Richard Castle." 198 pg/2009. **** [12/3]
I don't know if you can love this book unless you love "Castle." But I do, and I SO did, marking one of the first crime novels I've ever really enjoyed.

194. Beautiful Malice - Rebecca James. 272 pg/2010 ** [12/3]
I 100% thought I was requesting a YA novel (maybe because I set the "intended audience" search parameter to teen) until I was 5 pages in and something seemed off. I kept going, but I couldn't really tell you why, since it had a persistently bland veil over it. America, get better at picking Australian books to publish.

195. Certain Poor Shepherds - Elizabeth Marshall Thomas. 128 pg/1996. **** [12/4]
The simple tale of a dog and a goat at Christmas - just the sort of story I'd like to write.

196. Just Like That - Martha Qualey. 240 pg/2005. ***½ [12/11]
I loved how real it felt, thanks to the setting, but did not agree with a whole bunch of choices both character and author based.

197. The Running Dream - Wendelin Van Draanen. 352 pg/2011. *** [12/15]
Short sentences and chapters make for choppy storytelling, but it was interesting enough.

198. Naked Heat - "Richard Castle." 290 pg/2010. ***½ [12/17]
I didn't enjoy that one quite as much - the writing seemed less snappy and the relationship cheaper, despite a few good captures with threats of torture - but still good.

199. Angel's Choice - Lauren Baratz-Logsted. 248 pg/2006. **½ [12/17]
Teen pregnancy stories are so much harder to enjoy when the girl is an moron about it. She got a 2200 on her SAT and applied to Yale, but I couldn't stop picturing her as a C student in non-advanced classes.

200. The Thin Pink Line - Lauren Baratz-Logsted. 296 pg/2003. ***½ [12/19]
Fake grown-up British pregnancies = much better! That was so shamelessly cracktastic and awesome. Can't wait to read the sequel.

201. The Big Crunch - Pete Hautman. 281 pg/2011. *** [12/20]
Nice (refreshingly clean), but I sort of felt like I was watching a teen hipster movie the whole time. Like maybe one of the ones based on a David Levithan novel. And then I finished the book: oh hey, guess who the editor was?

202. Summer and the City (Carrie Diaries #2) - Candace Bushnell. 416 pg/2011. ***½ [12/22]
Told you it wasn't improbable I'd read a sequel. And wow, this gets way more fun once she moves to New York and meets Miranda & Samantha! If you really want a series prequel, I suggest you skip the first book and hit up this one immediately.

203. Something, Maybe - Elizabeth Scott. 217 pg/2009. [12/23]
Cute enough, though we seem to have downgraded in maturity level. I can't figure this author out.

204. The Year Without Michael - Susan Beth Pfeffer. 164 pg/1987. **** [12/24]
Who knew she was famous long before 2006? Stumbled across this gem in The Old Library, known hideout for the more geriatric members of the YA collection, and was amazed to find this exceedingly well written, very serious and mature (and just dated enough to be excellent) piece of work.

205. A Small Furry Prayer: Dog Rescue and the Meaning of Life [NF] - Steven Kotler. 289 pg/2010. *** [12/25]
Cut out the "meaning of life" part, and you've got yourself the outline of a promising book, with only half as many Chihuahuas as feared.

206. The Homeschool Liberation League - Lucy Frank. 279 pg/2009. *** [12/25]
Silly and light.

207. Heat Rises - "Richard Castle". 320 pg/2011. **** [12/27]
Best one yet! After a slightly slow start, it came roaring to life with a complicated, complex, fascinating true mystery.

208. Heartbreak River - Tricia Mills. 248 pg/2009. *** [12/27]
Roughly as deep as you'd expect it to be with that title, with an extra twist of Stupid Teenager at the end.

209. The Eleventh Plague - Jeff Hirsch. 278 pg/2011. *** [12/27]
Despite the endorsement from Suzanne Collins, that was an excellent survivalist setup. Would have been better with more backstory on Josh (of course I went to a Terra Nova place) Stephen and his dad, though, and without the horrible character of Jenny.

210. My Heartbeat - Garret Freymann-Weyr. 154 pg/2002. **** [12/28]
I decided I needed more Kurt/Blaine-themed fiction, but who could I trust not to make it gross? Then I remembered this book, which I had initially auto-rejected, but now seemed like just the ticket. Lo and behold, while I wound up going more Sam than Kurt for Link, it decided to skirt all the issues instead of tackling anything head-on, leaving me one very pleased reader with both the plot direction and the simplified, once-removed writing style. I wanted to love all three characters, and it was easy to do so.

211. Fact of Life #31 - Denise Vega. 384 pg/2008. *** [12/31]
Took for-ev-er to get going and introduce the plot described on the inner cover (more than halfway through!) -- way longer than it needed to be for such bland characters.
------------------
Conclusions: Remember last year?
Those were some amazing reading feats right there. I'm now convinced I can do anything.
And so I can. With only a little bit of specific discipline, I broke every record I set out to break, which moved from 100 to 150 to 167 to 175 to "200 in a 12-month period" to 200 this year, and finally achieved the perfect 211 for 2011. I never want to get anywhere near this number again, but it is a FANTASTIC feeling.

Statistics: You'll love this. I have gone completely unbalanced at 85% juvenile/YA literature, 9% non-fiction/memoir, and 6% (actually, more like 5.5%) adult/regular fiction. This may explain how I was able to read so many, but shhh! (and actually, the two shortest books I read were both shelved for adults) Meanwhile the ratio of male to female authors just keeps growing a wider gulf, as it is now about 1 : 4.2.

NEW THIS YEAR: I decided it would be fun to make pie charts based on the decades in which the books I read were first published. It will be fun to watch its percentages morph as we progress through the decade. (I will always have the current year separate from its decade, however, so that I can directly compare those stats year to year).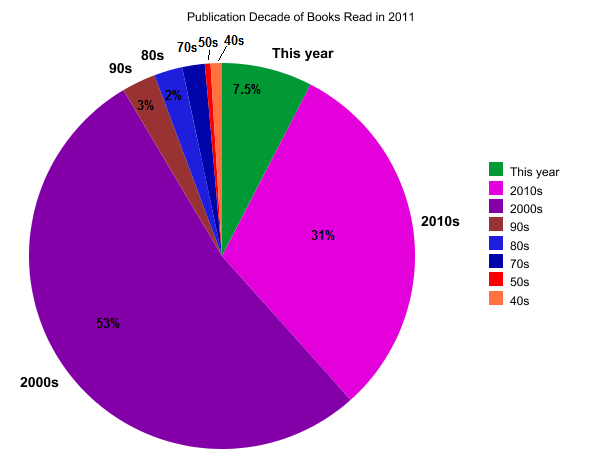 ---