Glee, 4x16, "Feud"
"I took semi-coherent running-commentary notes, so that's what I'm going to post (with subheaders for organization)." Maybe this time I am telling the truth!

Will v. Finn Feud
POWER ABUSING JERK!WILL. I LOVE IT. It's been like 90 seconds and I'm already laughing so hard there are tears in my eyes.

Interest in Blaine as future teacher...rising...

Her Name Was New York
* Oh thank god my demands [for false positive] have been met -- but still, ill-pleased at this attempt to do a female-bonding-by-fire route. Although I will totally grant you that this clinic footage is useful for the sad AU in my head where Rachel is just coming back from an abortion, and how that is the only secret Santana will keep until the day she dies.
p.s. loving the continued use of "Donkey Face"

* Yep, Brody's a prostitute. Brody's a prostitute! Hey guys, you know how in the future we're always saying "remember when we confirmed Douche Bro was actually a douche ho"? THIS IS THAT TIME.

...and it is, like, the grossest thing to watch in Glee history.

* ♫ -

How To Be A Heartbreaker

: Is this is what it feels like when people feel their music has been butchered by Glee? Because the original is SO GREAT and this is so not. I mean, it's better than hearing Jake sing and I won't have to skip it in the future (it makes a lot of sense contextually, and Rachel's part is beautiful), but blergh my eyes. Am I supposed to believe you're feeling emotionally tortured, or something?

Sue v. Blaine Feud
* LITERALLY EVERY SECOND OF THIS SCENE IS GLORIOUS. ("that's a forgery" / "you can't prove that" / "I probably could")

* BECKY + ASS SLAP + HIM JUMPING A FOOT IN THE AIR (her existence: validated for the year)
(are we going to talk about how much more sexually-assaulty that is than what Tina did, and how non-traumatized Blaine appears to be?)

The Prince and the Paupers
(featuring: Ryder/Catfish)

* Oh, god. Why are this town's children still allowed on Facebook.

* Ohhhh poor sweet baby naive Ryder, this will not end well for you.

* True story, I deal with people who suck at writing all day every day and HATE THEM for it, yet somehow his spelling misteaks are the most darling thing. I want a whole Tumblr dedicated to this. Mashed up with Ziva David's confused idioms.

* What - oh, UH-UH, Stage Name Unique is NOT going to come attack Ryder for fulfilling his Prince Charming destiny (Marley is a sleepwalking beauty trapped in Jake's web; the spell must be broken like any good fairy tale curse). NOPE. SCENES SKIPPED.

Will v. Finn
"And what do you do? You betray me in the worst way possible. You broke the code of a brother."
LITERALLY SCREECHING FOR JOY AT MR. SCHUE'S OVERWROUGHT MELODRAMA.

(But also, he's right, deep down. It's not the unforgivable offense an affair would be, and obviously Schue is acting like a toddler, but it's not like Finn hasn't earned a role as a tongue-lashed whipping boy. Will still has a right to feel the way he does for a while yet.)

Her Name Was New York
Rachel "doesn't understand" why Santana keeps trying to bring Brody down? Because she legitimately thinks he's a drug dealer, Rachel. She has moved from "annoyed & trying to stir up trouble" to "actual zone of concern."

"soggy mess of a woman going back and forth between your flop high school ex and your terrifying 'waiter with a pager'" = most accurate depiction of everything that is wrong with Rachel + Season 4. Still don't understand when I began to love Santana.

[edit: Future Me is really pissed that she has to keep hearing Brody sing a capella if she wants to hear Blaine's first note of rage.]

Sue v. Blaine
* "YOU." I almost can't even recognize Blaine's voice here. I really want to love him in full-blown rage/hysteria mode, but on the other hand, it's kinda...not acted that well, in a way that is cringe-worthy and overblown for comedic purposes.
(and are you kidding me with the identity theft? Not a joke, Glee. Not even a little bit. Unlike the cement in his hair. *sporfle*)

* [edit: Tumblr has taken great delight in pointing out how this green ensemble is apparently Blaine's 'I'm angry and I want you to know' outfit last seen in 3x17. I would have gotten there eventually...]

* BLAINE IS ON THE BOTTOM. "And, it's not true"??? omg did nine million fanfics just get invalidated? No way. Let's see what he says next before I jump to conclusions about what the sign means.
Blaine: "Not really!"
Me: oh crap suddenly it's not funny, it sounds like my own headcanon just got shattered, noooo. Literally: NO. I remain firm about this. No one rounds fourth base in my OTP. There is no fourth base. Third is as far as it goes. Third is home; this is a triangle-shaped playing field. Proof:


LOGIC BY RS™

The Princess and the Paupers
-"You're supposed to not let him think that it was even a possibility."
HOLY SHIT WITH THE VICTIM BLAMING, JAKE
-"Are you seriously worried that I'm going to leave you for Ryder?" ????
Like I can't even wrap my head around how this is supposed to be ludicrous, it is such an obviously forgone conclusion.
-"It doesn't matter who I talk to," says Marley, and I can't believe she actually has to state this out loud because Jake apparently missed the flyer on "controlling who your girlfriend talks to: step 1 of Becoming An Abusive Asshole."

♫ The Bitch is Back/Dress You Up mashup: too theoretically awful to take chance on seeing/hearing. I thought I already skipped this.

[scene: Blaine's anxious attempts to be a cheerful little "please let's just all get along" friendship ambassador are soundly ignored while Unique throws attitude and Ryder is not impressed.]

I AM CRYING AND FLAILING AT THE SAME TIME.
RYDER WERE YOU CREATED IN A LAB TO BE MY PERFECT TV BOYFRIEND?

Once again, I blatantly refuse to learn any lessons Glee is trying to teach me; I am just here to observe the wisecracks and cackle from within the walls of my zealously guarded Fortress O' Comfort Zone.

Sue v. Blaine
This Nikki Minaj rehearsal scene seemed completely necessary.

Her Name Was New York
* Santana "Don't Apply Logic To" Lopez just officially became my queen. I love how casually she usurps his miniscule authority. She's like the walking definition of "ball buster."

* Brody: "Do you know what your problem is, Santana? You're loud. And you're rude. And you think that attitude equals talent."
Except...well, that's true. Consarn it. I legit cannot decide who to back in this war sometimes.
Santana: "I can smell your sketchiness from here."
Aaaand we're back.

♫ +

Cold Hearted Snake:

AWESOME. Catchy and way better than I thought it would be in every way, even if it'll take a while to reach full strength in my brain. [Future Me: spoiler alert, I love how Brody just never stops getting his ass handed to him in this episode.]

Will v. Finn
* I feel like Artie is directly telling bloggers not to try and find the deeper meaning behind who is on what side.

* "Whatever. Begin please." = best thing Kitty has said in several weeks.

♫

++Bye Bye Bye/I Want It That Way

: THIS GLORIOUS CRACKFEST OF MUSICAL BEAUTY.
This mashup is amazing - I love both originals, but these are super-valid replacement voices, as evidenced by how I've played it like 60 times in the past week. I love the music video recreation and think it would be really fun, if hard, to work those ropes. I am smirking at Darren getting caught looking at the camera again before quickly snapping his head down. I love when Finn's group stalks in and out of the other three, like so many hyenas taunting sleeping lions, and the "shutdown" moment where the trio goes limp. I especially love when Finn's side echoes the "you are" one by one, and how Sam looks extra teen-pop-idol-crooner in his little hat and vest combo.

* I don't know when I was supposed to assume that fight took place, except after 6 watches I assume it was in Finn's mind right before the battle, how he expected things to go? Regardless, it was glorious and cathartic to watch them sling each other around the stage while everyone else just stands by awkwardly and lets them duke it out. See also, "not making excuses for the age difference."]

* Noted: Sam's approach to resolving conflict is that "bros just need to hug it out." Could I love him any more? Especially now that his hair is all overgrown and the ends are curling out most attractively? [Future Me: yes. Just wait for next week.]

* My notes called this feud "kurt/blaine: the straight dude dukefest." I am still cackling at this weird tone between Finn begging for forgiveness and Will being, and I quote, "I want to, I really do, I just...can't," + Finn's, "Fine. There's nothing I can say or do to win back your trust. I get it." I think what I'm really finding cathartic about Will's anger is that it's everything we didn't get to see from Kurt. I prefer his icy code of silence, for in-character accuracy, but sometimes you just need to see the attacks.

Her Name Was New York
* Santana apparently just got a job as a hot bartender. This...is literally the first post-graduation career path I have 100% approved for anyone since Quinn got into Yale. If she's not going to stay in college, then that is absolutely what she, realistically, needs to do.

* Oh god Kurt/Rachel in Stern Parent Mode...I don't know which side of this glimpse-of-the-future is hottest. OR BOTH TOGETHER. Oh no now I'm going to start imagining an AU where they raise children together, aren't I? Like a world where Blaine doesn't exist and Kurt is a serial dater so he lives with Single Mom Rachel full time and acts as a surrogate uncle.

* "My breasts ache with rage" is everybody's new favorite catchphrase. Mine included.

* Not sure what is saddest here: the fact that Santana really is smarter about people than both of them and I'm still not sure how they haven't gotten mugged or duped out of all their money by now, or the way she makes up such wild and obvious lies under the pretense of saving face, relying on her bluster not to get called on it.

* "Bitch took my pillow." Cackling!

The Prince and the Paupers
* Oh, Ryder. Don't you know how to respond to liberal logic traps? You identify what they want you to say and make a regressive statement to spite them. In this case, "What if people said our friendship wasn't real? I'd probably either accept that I was delusional, and/or that people had a right to disbelieve in our friendship's existence until we met. Was there another allegory you wanted to try?"

p.s. "putting on a bunny suit doesn't make me a rabbit." Must remember that line to maintain sanity.

* AWKWARD MOSTLY-NUDE CALENDAR PIC IS AWKWARD. But hilarious if you imagine this:




* In other news, I doubt it but I really hope Katie is real and exactly who she says she is (at worst maybe 75 pounds heavier than she says she is but otherwise an actual blonde teen girl we haven't met before), because I just want Ryder to be happy and this puppy love is adorable. I can also think of at least one fan theory that would make me very angry.

Sue v. Blaine
* Aww, Blaine with the Michael Jackson crooner moves and then suddenly THIS GLORIOUS CRACKFEST. (also, I really love the lip-syncing attitude on the one black girl, who appears to be stealing the show out from under coach)

♫ ++

I Still Believe/Super Bass:

You've already heard my feelings on this, so suffice to say Sue won this mash-off in my head the first time I heard it too, until I saw Blaine's face and suddenly got 87 more times invested in his part. #look at this precious little cupcake valiantly singing his heart out in an attempt to win an unfair fight with his honor intact

Awww, he looks so sad when he finally gives up. This club is full of jerks. (except Tina) [edit: I cannot quite believe the hopeful lie that he threw the competition as opposed to coming up with Operation: Undercover Usurper after losing, but at least that way I wouldn't be mad at Sam.]

Ugh, his face. This is like the saddest I have ever been. (during this episode.) I was not prepared for this outcome; please tell me that after all that celebrating I did upon hearing he got out of Sue's World immediately, his soul is being sold back into that devil's hell after all.

Something New
Am I the only one reading between the lines here?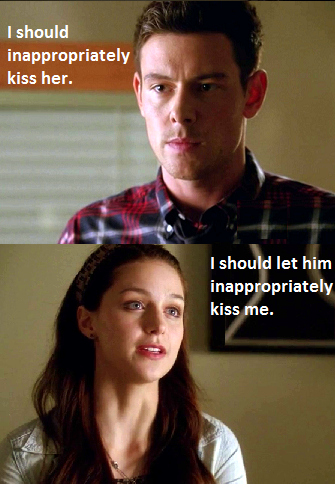 JUST KIDDING. NOT ACTUALLY SHIPPING THIS. REALLY.

I NEED TO MAKE THAT VERY CLEAR BEFORE I MOVE ON TO THE NEXT IMAGE.

ESPECIALY IN LIGHT OF THE CONTRASTING PAIR I CHOSE TO HIGHLIGHT AND MY COMPLICATED HISTORY WITH IT.

So Marley just gave him a handmade thank-you card, in one of her rare and wonderful moments of being an independent character, and please, be more me. I love how she's kind of shy and awkward about it (er, to a point), but between 4x09 and this, I just had a really mindblowing moment of realizing that Finn is Marley's inspiring-season-1 Mr. Schue - even now that actual Mr. Schue is back in the same room. That's part of why I can't ship it (shut up), because he really is an adult to her despite the teasing familiarity by the end of this scene, and I just love that he has grown up enough to be a mentor.

We will ignore the pending irony of this statement.



Because giving someone a handmade thank-you card is the shy girl's version of a group love song.

The Prince(/ess) and the Paupers
GLEE HAS MEAN GIRL BULLIES AGAIN.
OMG
ALL THE FIC
BRING ME ALL THE FIC
GLEE IS SO DAMN GOOD AT UNLEASHING MY PSYCHOTIC INNER BULLY THAT DIDN'T EVEN EXIST UNTIL SEASON 2.

Ugh. What is this gathering of peasants. Ryder, take Marley's hand, run and never look back. Forget this friendship BS, you don't need it and never did. You are a prince and she is Rapunzel trapped in a tower of her own low self esteem. (My tumblr tag for them is "prince and princess of glee club," yo, I can do these metaphors until I run out of Disney films.)

Sue v. Blaine
Gratuitous lingering ass shot #2!

I was mistaken. This is the saddest I have ever been in this episode (albeit very useful for dystopia-style slave!Blaine fics, yes it is. I just started reading (Def)initions, for instance, and I feel like this is that version of him).

Wha - did Becky just kiss Blaine on the lips?? Come on, show. Blaine/"Any Old Girl" is not the formula I requested for heterosexual awesomeness and you know it.

Oh god. I have to blacklist "thong" on Tumblr, don't I? I DO NOT WANT THE FIC. I NEVER WANT TO HEAR ABOUT THAT FIC.

Blam! Slaine!
*genuinely shocked gasp of delight*
YOU TRICKY LITTLE MINX. Why do I doubt you, Baked Perfection Booty.

If you manage to take down Sue Sylvester, I'll agree to flat-out forget you ever cheated, that is what a service you would be doing for the world. Probably enough to earn knighthood.

But still. Gross and sad. Does this mean I have to see him in that hideous cheerleader uniform for the rest of the year outside performances?? Because that is beyond depressing.

Voice: you say this like he has any fashion sense to lose.
RS: SOMETIMES HE WEARS NICE CARDIGANS. OR FETCHING HATS.

SLAM! PAIN!
Brody: "I'm not proud of this."
Hahaha!
Santana/Everyone I Want To Associate With: Save it.

Brody: "I love her."
Me: *laughing too hard to breathe*

Me when Finn showed up: PUNCH HIM IN THE GROIN. PUNCH HIM IN THE GROIN!
Finn: *slugs the everliving crap out of Brody, pummels his face, etc*

WOOO!

I don't like Rachel not having agency in her own storyline, and that "my future wife" line was super possessive and gross since they're not dating, but: I am WAY too freaking happy to watch dudes slug other dudes over women's honor to care. I am possibly a little bit turned on right now. Either that or it's sheer bloodlust. The amount of exhilaration and full-body satisfaction I am feeling right now while watching Brody get his ass kicked and Finn turn into a violent and surprisingly skilled aggressor, full of livid hatred for this scrub...is off the charts.

AND FINN MAKES SURE TO KICK ANOTHER INANIMATE OBJECT ON HIS WAY OUT.

GOOD NIGHT.

[edit: Oh. I guess there is still one more performance.]

♫Closer
I put it on Tumblr so I wouldn't have to ever listen to it or watch it again. The relevant bits are things like Blaine (always) doing anything, Tina tickling his neck, the pair of them jumping up/grooving out next to each other on the bannister, and Blaine approvingly pounding keyboards with Ryder, who would be a massive upgrade in the friend department if Ryder felt like branching out and just hoping some cool new kids joined the club next year to replace him. I'm just saying. They're pretty and I think they should talk. I think Blaine should somehow find time in his day to be a student tutor and get matched up with Ryder. And someone should write fic of it.

In Conclusion: SO MUCH FUN. Although some of the peasant scenes, obviously, dragged. And GOD DAMN IT I still wrote 3000 words.

No time for fic recs tonight after all; my patience for 4x17 is so gone it's in the negative numbers.
---------------------
Up Next: I am 5 minutes into the new episode and it is EVERYTHING I DREAMED IT WOULD BE AND MORE. Who's gonna spoil it for me? Nobody knows! Probably Douche Bro. Maybe Jake. Actually, yeah, I bet Jake.

[edit: I forgot to post this. Now I've finished the ep and I'm 75% squeeful, 10% lingering secondhand embarrassment, and 15% infernal rage I cannot shake about being subtly manipulated over the context of AAO. Once that goes away I hope the percentage of squee improves instead of the the secondhand embarrassment.]