First,
here
is my complete reading list to review/match titles from below.
Here
you can see big covers (which serve as links to book data) on Goodreads. And here, if you click the spoiler cut, you can see a quilt of many covers, thumbnail sized:
[
colors!
]
BUT IN THE MEANTIME: SURVEY QUESTIONS!
1. Best book of 2013?
I'm just going to throw some random possibilities out:
Nonfiction
The Zoo that Never Was - R.D. Lawrence
General fiction
Beem - Gavriil Troyepolsky (**this one did make my "lifetime favorites" shelf, though, so...maybe this one)
A Vintage Affair - Isabell Wolff
Astor Place Vintage - Stephanie Lehmann
YA
Lovely, Dark and Deep - Amy McNamara
Bass Ackwards & Belly Up - Elizabeth Craft & Sarah Fain
Fangirl - Rainbow Rowell
The Shy Ones - Lynn Hall
1b. Best book written in 2013:
Fangirl
1c. Best reread of 2013:
Wolf at the Door, With a High Heart
and
When The Dolls Woke
2. Worst book of 2013?
Horse Camp
. Spoiler alert: it's a farm and the joke is there are no horses and never have been. Also everyone is the worst kind of redneck.
(Though honestly,
Dear Julia's
pretty close for pure chore-reading.)
3. Most Disappointing Book of 2013?
How It's Done.
I paid 50 whole cents to read a good and not-morally-questionable student/teacher romance, and instead it was all about a naive dim bulb and a manipulative sleaze.
Not Buying It: My Year Without Shopping
, which was only about 25% what the title promised - and even then, from someone so well off and not thrifty it didn't seem to make much difference - and 75% dull politics and/or ranting about George W. Bush.
Footfree & Fancyloose
: Wasn't bad, but the sequel was SO UNFULFILLING compared to the setup in the first book.
Dishonorable mention: Band Geeked Out,
the sequel to Band Geek Love, was far worse than anything. The first book got 4 stars out of me; the second one I couldn't even finish reading since it featured a pointless blowjob in the park, the character cheating on her sweetheart boyfriend for the second time in the series and simultaneously "exploring her sexuality" with a girl (we won't even get into how she managed to get drunk on her overnight college visit because peer pressure), and an ending that managed to disappoint on both the relationship and college-choice fronts.
4. Most surprising (in a good way!) book of 2013?
Office Girl.
I really hesitated on this one and surprised myself by ultimately paying SIX whole dollars to read something that looked like it had about a 50% chance of being awful. But...well, it crawled into the soft spot in my heart and rooted itself in deep as a memory where I enjoyed the experience of reading it as much as the book itself. That sounds weird, but I don't know how else to describe it.
The Lucy Variations
. Sara Zarr wrote a book that mostly doesn't suck!
Fancy White Trash.
SO much cuter and more memorable than its cover seemed.
5. Book you recommended to people most in 2013?
Bass Ackwards & Belly Up
as an example of everything a YA novel should be.
A Vintage Affair
if you like the following: vintage clothing (esp. dresses), WWII flashbacks, ties between the past and present, and mostly pleasant, non-graphic and non-central romance.
AND/OR its sister novel,
Astor Place Vintage,
if you'd prefer more of an American historical novel and/or diary format, a strong early-20th-century women's rights vibe, and don't mind some hints of ghostliness and a messier romance.
The Freedom Maze
for all ages, but especially the younger crowd, as great historical/multi-cultural/strong-female-c
haracters fiction.
And of course,
Fangirl
for anyone ages 12-35 who has been involved in internet fandom.
6. Best series you discovered in 2013?
The Fairacre books (
No Holly For Miss Quinn
) seem quaintly charming, though who knows if I will ever read another.
7. Favorite new authors you discovered in 2013?
Rainbow Rowell, April Lindner, R.D. Lawrence (speaking of which I gotta request more of his books) and maybe Hughie Call, if her next book holds up. And while definitely not "new," this is the year I really found Lynn Hall to be an inspirational author hero.
8. Most hilarious read of 2013?
Bossypants
! Man that was fun.
9. Most thrilling, unputdownable book in 2013?
Wildthorn
- 19th century mental institution.
10. Book you most anticipated in 2013?
On The Island
- I was on the library waitlist for two months, champing at the bit. Similar feeling about Astor Place Vintage, actually.
ALSO THAT TIME WHERE I GOT MY HANDS ON THE SUPER-RARE COPY OF "SNOWMAN." Remember that? I am going to talk about that until the day I manage to buy my own copy.
11. Favorite cover of a book you read in 2013?
Almost Home
by Joan Bauer. Look at the super-cute puppy with its blue eyes!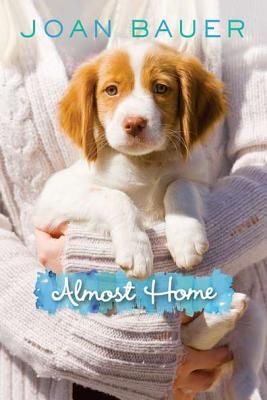 12. Most memorable character in 2013?
Texas McCoy (as in,
The Luck Of)
Lemon in
Fingerprints of You
Alex in
Another Kind of Cowboy
Ellie Snow,
Band Geek Love
(and no other books)
Cath from
Fangirl
13. Most beautifully written book in 2013?
Not sure I had that really stood out lyrically, but perhaps
Lovely, Dark and Deep.
14. Book that had the greatest impact on you in 2013?
How It Ends
- I was a freaking wreck for hours afterward.
Beem
really put me through the emotional ringer too, despite how good it was.
Greatest impact in a *positive* manner would probably be
On The Island
-- that was the best romance I've ever read -- and
Tschiffely's Ride,
a South American adventure by horseback that unfurled over the course of several days because the text was so thick and detailed. I relive it in my mind on a regular basis.
15. Book you can't believe you waited UNTIL 2013 to finally read?
The Dog With the Golden Eyes
, which I swear I remember from elementary but apparently never did?
Bass Ackwards and Belly Up
, which I've been thinking about picking up for 5+ years
16. Books you are most looking forward to reading in 2014?
Chris Colfer's books. Maybe. Genuinely don't know if this will happen in the next twelve months after failing two summers in a row.
Ellen Emerson White's
Long Live the Queen
. It's a sequel to the tune of 700 pages in stupidly small font, and I'm excited to dig into it, but it's going to be the biggest reading project I've tackled since Dickens so I'm waiting for the right time to start.
More Hughie Call books! I got
The Shorn Lamb
via ILL and we'll see if it jives.
My new horse book,
Three White Stockings
. I feel it's going to be as much of a treat to read as to look at and own.
Eleanor and Park
---------
Bonus stats!
Total books read:
120
Month w/ most books:
Janaury (16)
Month w/ fewest books:
June & September (3)
Shortest book admissible to list:
Riff, Remember - 107 pages.
Longest:
Either Fangirl, at 438, or Tschiffely's Ride, at 328 but really small font; one Goodreads edition pins it at 532 pages.
Books by male authors vs. female authors:
shrank to a 1 : 4 ratio (25 vs. 101).
Most common publication decade:
2010s (45%, with 4% from 2013)
[
click to open a large pie chart
]
Plus I've had this like 90% written for over a week, so I figure I might as well bite the bullet and post it now before I think of any more winners for each category.