In March 2004, as part of My Great Big Complex Story Universe, I went scouting real estate sites for a California ranch/estate that my character's wealthy daughter could afford to buy. I found a beautiful property and had the presence of mind to copy the realtor's lengthy and detailed description into a Word document while I was saving all the photos, but it either didn't have an address listed or I didn't write it down. And I didn't save the website URL or anything.

So for 10 years, I've had these pictures of her home in my head, but I can't figure out where the damn place is. It hasn't been on any real estate sites for the past year I've been looking. For all I know it could have been torn down and subdivided since I saved these pics. I even tried feeding the house pictures into reverse image searches today, but came up empty.

My other documents have conflicting results but it seems it was called either Deerfield Manor or Deer Creek Manor, although I might have been blurring reality with creativity, or mixing two properties together. I don't even have an exact city -- I remember it as Redding, but I think the listing only specifies "Shasta County," which as it turns out, is a really big county.

Any suggestions as to how I could look for it? Anyone bored this summer and need a project to tackle?

This is what it looks like:

I have photos of the inside I can upload too, but right now I'm lazy. Looking at it now it's not the most gorgeous house I've ever seen, and to be fair this wealthy character isn't even scheduled to be born until 2017 so I suppose I could still change the location, but I feel like I owe it to my younger self to at least have all the facts before I rewrite years of planned ideas.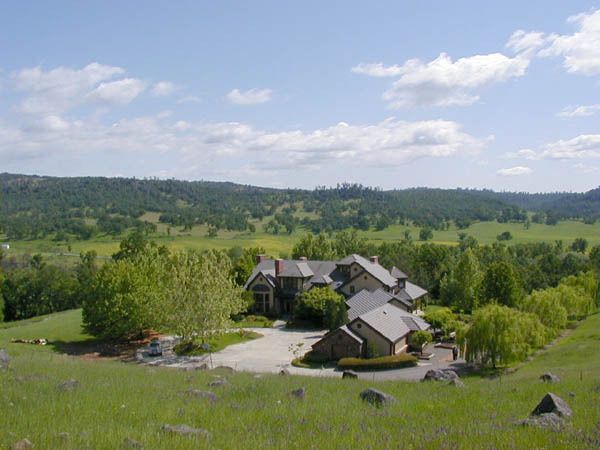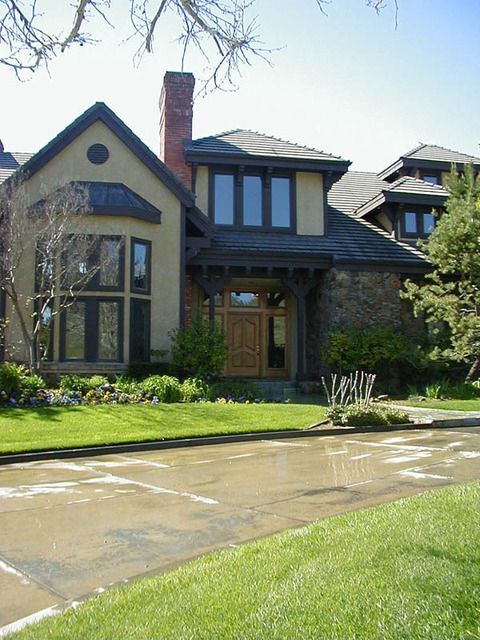 Cow Creek: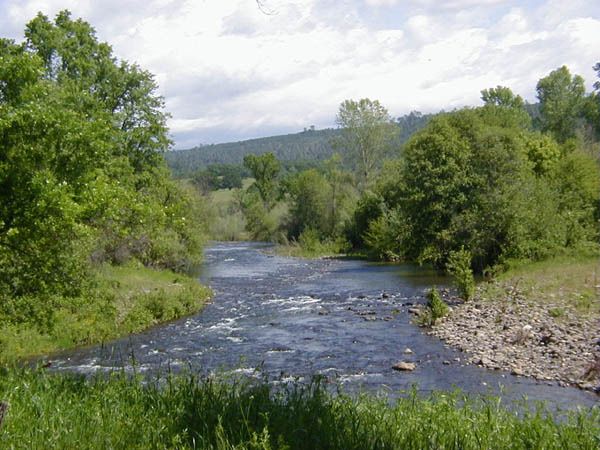 And then there's this topography map of the outline:

-------------------------------
Original Page Description:

Location: Shasta County, California
Land: 248/- deeded acres ( 2 adjacent parcels ... 208 acres & 40 acres )
Home: 8,048 sq ft - 6 Bedrooms / 6 Baths / 6 Wood burning fireplaces
Buildings: Attached 4 car garage and double carport
Guest Quarters: 400 sq ft above garage
2500+ feet of year-around creek through property
Water rights: Deeded and riparian
Zoning: Unclassified
Distance to nearest major town/shopping: 18 miles

Nestled away in one of the most beautiful and private valleys in Shasta County, sits one of the most impressive properties currently offered in the Northern California market. As one initially drives into the little quaint valley of South Cow Creek, one is amazed as to how peaceful, serene and beautiful the valley is. A few minutes into the valley, your drive takes you through the west part of the property… with glimmering white fences outlining lush green pastures on both sides of the roadway. Eventually leading to an impressive gated entry, a private paved driveway begins to meander through scenic meadows and trees, over an 83-foot bridge crossing a crystal clear mountain creek and through a shaded archway of huge valley oak trees. As the driveway gracefully begins to wind itself up a grassy hillside, your attention is immediately drawn to a stunning European Tudor home stately perched high above you. As your drive circles around to the front of the home, it opens to a large circular driveway and parking area with deep green lawns and colorful flower gardens throughout.

Walking through the double doors, the impressive entry way soars to 23 feet above you and features a spiraling San Francisco di Christina & Sons staircase. With a floor plan cleverly designed to take advantage of the magnificent surrounding sweeping views, the 8,000+ square feet of living area includes 6 spacious bedrooms; 6 bathrooms; 6 wood-burning fireplaces made of Italian marble, Vermont slate, Travertine marble, used brick, and Field Stone. The spacious light and bright country kitchen is second to none…enormous center island; loads of counter and cabinet space; spacious table-seating area with a full-wall brick fireplace featuring a Dutch cooking arm. Along with an elegant formal dining room, there is the large walk-in pantry featuring a 1,100 bottle French wine cellar to serve any occasion. Naturally, the well-thought out plan includes a two-story library equipped with its own spiral staircase, fireplace and floor to ceiling built-in shelving.

All your toys and vehicles can be stored in the very roomy attached 4-car garage and shop area. Also, there is lots of room in the guest quarters above the garage to accommodate everyone that comes to visit you.

The outside grounds are truly a rarity seldom found anywhere. The acreage totals approximately 247 acres and offers many unique features - panoramic views of the valley with bright green pastures, creeks, meadows and forested hills surrounded by snow-capped mountains; a beautiful park-like setting with giant valley oaks and over 2500 feet of scenic South Cow Creek flowing through the property; expansive emerald green irrigated pastures that can be used for horses and cattle. With adjudicated water rights, there is plenty of "free" water from South Cow Creek.

Enjoy the experience of living in one of the most beautiful ranches located in the heart of Northern California's most popular recreational areas. Large elegant home with guest quarters and over 200 acres with terrific views, irrigated pastures and rolling hills and…lots of space to roam.
Located in a very scenic and secluded valley, the cold, clear waters of a large year-around creek gracefully carve its way through over 2500 feet of the property.

Deeded water is used to irrigate over 90 acres of pasture that is currently leased out for cattle grazing. Topography ranges from sloping terrain to level pastured areas and averages in elevation of about 1,000 feet.

In the heart of prime recreation, this property is ideally located…lots of privacy and yet approximately 15 minutes away of from the city of Redding (80,000 pop.) in Northern California; 25 minutes to Shasta Lake for a variety of water sports; 80 minutes to the Mt. Shasta Ski Park for snow sports; 40 minutes to Lassen Volcanic National Park for camping and hiking; 15 minutes to the Sacramento River for Salmon and Steelhead fishing; 50 minutes to Hat Creek for world famous fly fishing; and surrounded by hundreds of square miles of national forests for horseback riding, hiking, hunting, mountain bike riding and a myriad of other fun and enjoyable activities. Come and enjoy !!!

This package is ideal for someone looking for a great home, plenty of space, lots of water, clean air, and some of the best scenery around. This rare package can be your dream come true. Initially $1,800,000, just reduced to $1,495,000 - a spectacular price reduction for such a unique property.